1903 MBC Gold medal won by Eric Purdon discovered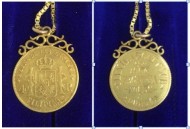 Eric St. Clair Purdon
Born: Feb. 11, 1882 Belfast County Antrim, Northern Ireland
Died: Aug. 25, 1914 Manila, Philippines
British Consul and Businessman,
he married Mary Morgan, daughter of US Army Colonel George Horace Morgan, on 24
June 1908 in Iloilo, Panay, Philippines, where Colonel Morgan was stationed.
They would have two children: Eric Sinclair Purdon (1913) and Mary Brownson
Purdon
Eric St. Clair Purdon is mentioned starting on Page 2 of Manila Rows (by Alan May) as follows;
"The first reference to the Manila Boat Club in newspapers
still available today seems to be that in the Manila Times for 1 February 1906. The annual regatta spread out
over several days with an event or two each day – was in progress in Manila
Bay. Thomas Aitken, an American who was the reigning sculling champion, won the
½ mile single sculls and the
four of McCullagh (bow), James Redfern, Eric Purdon and Harry Foster (stroke)
won their heat over ¾ mile in the time of 5.23. The grounds of the Manila Club
"were filled with a large gathering of spectators" to see the fours
final, in which Foster's crew was successful again, plus a canoe race and a
race in native bancas for two men over ¼ mile. A race for pair oars completed
the schedule, while "the winning crews were guests of honour at a dinner
given by the Manila Club later in the evening". In 1907, the annual
regatta was held similarly in early February "off the beach at
Ermita," with canoe and banca races also on the list of events. Tommy
Aitken was successful in the sculls event for the third year in a row."
Commander Eric Sinclair Purdon
(son of Eric St Clair Purdon) was educated at schools in England and Ireland and received a
bachelor's degree at Trinity College in Hartford. He went on to serve in the US Navy commanding the Submarine
Chaser PC1264. After WW2 he was a Government intelligence
analyst until 1948, when he was recalled to active duty in the Navy. His posts
included chief of information for the United States European command and the
joint military command on Taiwan.
After retiring from
the Navy in 1963, he was a spokesman for the Commerce Department and the Office
for Economic Opportunity and a special aide to the director of the Job Corps. Eric
Sinclair Purdon died of prostate cancer in 1989.
He left two sons, Henry, of San Diego, and Eric,
of Harwood and a daughter, Pamela, also of Harwood. It was Henry (Sandy) Purdon
who found the rowing medal from the Manila Boat
Club dated 1903 for "FOURS". Sandy's profile can be found at https://www.linkedin.com/in/sandy-purdon-1aba0433