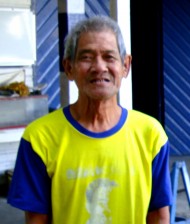 It is with great regret that we announce the sad loss of Mang Odoy (Pablo Rodoy) on Saturday, December 6th, 2014.
The members of Mania Boat Club wil be paying their respects this Wednesday, December 10th,
Please rendezvous at Manila Boat Club at 6pm where we will raise a glass and then walk in procession to the where Odoy is lying in A.P. Reyes Avenue, (just next to the church) and pay our respects.
Please wear your Club Blazer or Polo shirt. All are welcome to join.