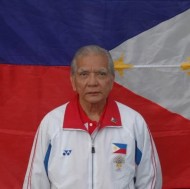 MBC expresses its deep condolences to the family of Nestor Ilagen who passed away in the early hours of Friday morning as a result of an accidental fall. Nestor was a much loved and valued member of the Manila Boat Club who went on to bring fame and pride to the Philippines with his successful coaching of the Dragon Boat Team. This country has lost an irreplaceable asset and his passing will be mourned but his achievements will be celebrated long after the pain has healed. Please see the following article from the Manila Standard.
http://manilastandardtoday.com/2013/02/09/veteran-dragon-boat-coach-ilag...
NESTOR Ilagan, one of the most successful coaches in the sport of dragon boat, passed away yesterday.
Ilagan, 79, succumbed at around 3:25 a.m. at the Manila Doctors Hospital, a day after sustaining a head injury while visiting the ongoing training and preparation of the Cobra-Philippine Dragon Boat Federation national team at around 6:30 a.m. Thursday.
He slipped and fell at the training venue's docking area, located at the seawall of the Manila Ocean Park and Manila Hotel.
Philippine Dragon Boat Federation president Marcia Cristobal said that without Ilagan guiding the squad, they will have to carry on with their preparations for the world championships in Hungary from July 22 to 29, with assistant coaches Ailene Padrones and Ruperto Sabijon calling the shots.
Ilagan, who was semi-conscious when he was brought to the hospital, had been handling numerous national squads in dragon boat since 1991.
Under his watch, the Philippines won six gold medals in the 2005 Southeast Asian Games and placed second to Myanmar in 2007.
In the world championships in Florida two years ago, the Cobra-PDBF team bagged five golds and two silvers.
In 2009, Filipino rowers set a new world record when they successfully defended their crown in the 200-meter open competitions and went home with two golds in the ninth World Dragon Boat Championship in Prague.
Veteran dragon-boat coach Ilagan dies - Manila Standard Today
manilastandardtoday.com
Veteran dragon-boat coach Ilagan dies - Manila Standard Today